| | |
| --- | --- |
| | GS1 DataMatrix coding contains much more information and allows better traceability than a classic linear barcode symbol. It is also the preferred 2D matrix coding symbology that efficiently meets all the needs especially in the pharmaceutical and medical device industry by: |
Capture the largest amount of data by far the smallest footprint.
Enabling direct marking of trade items where labels may not be practical (For instance small medical / surgical instruments)
Efficient in traceability throughout their entire lifetime if serial numbers are provided, and it can be extremely important if recalls arise.
Providing error detection and correction capabilities to improve the readability of coding symbols despite irregular packaging or physical damage to a label, torn or printed poorly provided the amount of damage does not exceed the available error correction.
Benefits
Fast and accurate data capture at every point in the supply chain, including goods receiving, warehousing, picking, dispatch and Point-of-Sale information.
More efficient supply chain.
Better quality symbols, improving scan rates.
Correct barcodes and therefore correct data in systems.
One test and barcode solution for all manufacturers giving confidence to retailers and other users.
Faster product to market by reducing lead time due to packaging re-printing.
Errors corrected at art work stage, prevents printing of wrong barcode.
Improved customer relationships.
One barcode testing standard accepted globally.
Scannable barcodes facilitate accurate, real time stock management.
No loss of sales due to poor scanning and consequent loss of sales data.
2D Barcode Verification Services
The verification services will assist our members & non-members in assessing the accuracy of a symbol's structure and its readability. Before our members & non-members distribute their products, they will have the chance to fix any issues with the barcode printing. In addition, our members & non-members will be able to ascertain if the Datamatrix coding they are using is in accordance with GS1 standards.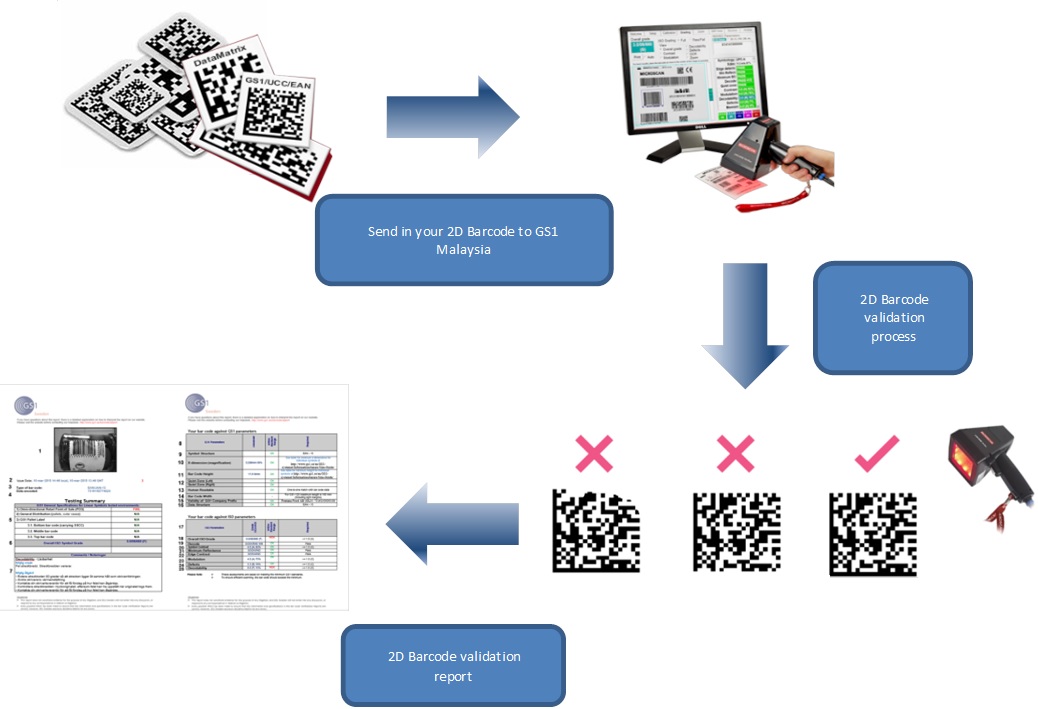 The GS1 barcode verification services include:
Both linear and Datamatrix.
The integrity of barcode numbers, including the correct use of the company prefix and a valid check digit.
Decodability.
Symbol contrast.
Provide barcode validation report.